Jackson Creek, Rampart Range Road, Deckers
November, 2003
Its unreal the weather we have been having in Colorado. Mid November with 50's & 60's! Today was no different. It got to about 60 once again. Usually by now we have had 2-3 snow storms, but so far this year, there has been none. Once again, I am having to jamb in a ride into a short period of time as I had to work later in the day. I took off from my house at 6:20AM. It was a pleasant 34ºF at my house. My first destination was Sedalia. About 30 miles from the house. Once there, I went south on 105 to Jackson Creek Road. It may have been 34º at my house, but on 105 it was WAY colder. I slowed it down to 40 just to be able to take it.
I turned off on Jackson Creek Road & pulled over to turn off ABS. Jackson Creek is a good gravel road that takes you right up to Rampart near the Devil's Head lookout. My plan for this trip was to go up to the lookout, then North on Rampart to highway 67. Then West to the South Platte, then South to Deckers. I figured I'd go up to the Cheeseman Dam area and check out some of the Hayman fire area. Then back North along the Platte all the way to highway 285 then home. Well, I pretty much stuck to the route...with a few exceptions.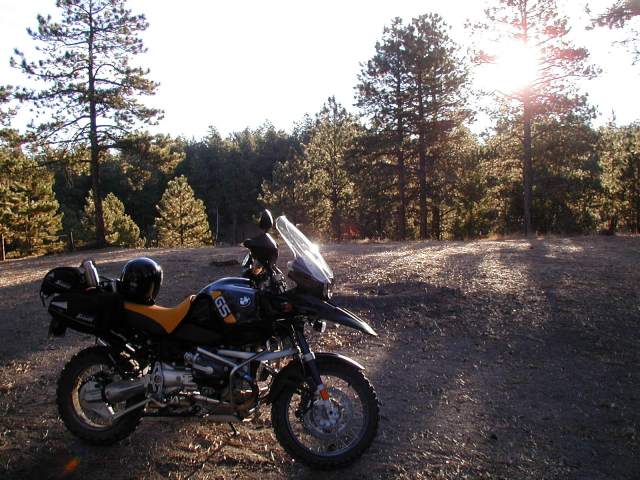 Once up at Rampart, I noticed these wild turkeys everywhere! I saw two groups of them. Both about 15-20 turkeys. They are pretty spooky. Couldn't get real close for a good picture. My Dad drives hundreds of miles each year to go turkey hunting and seldom gets one. Here I am just riding around & almost slaughter a few with the GS.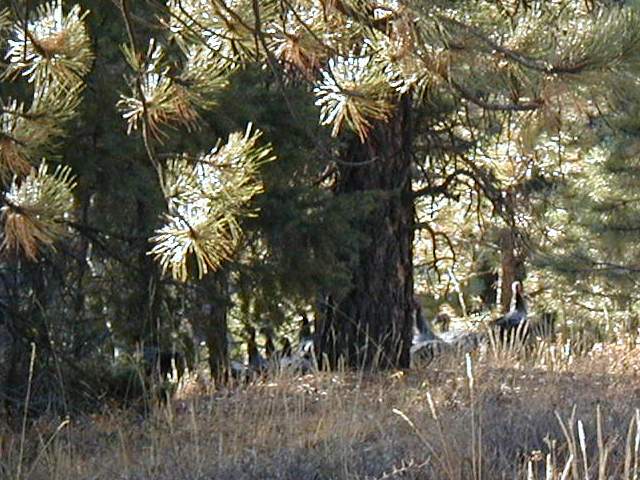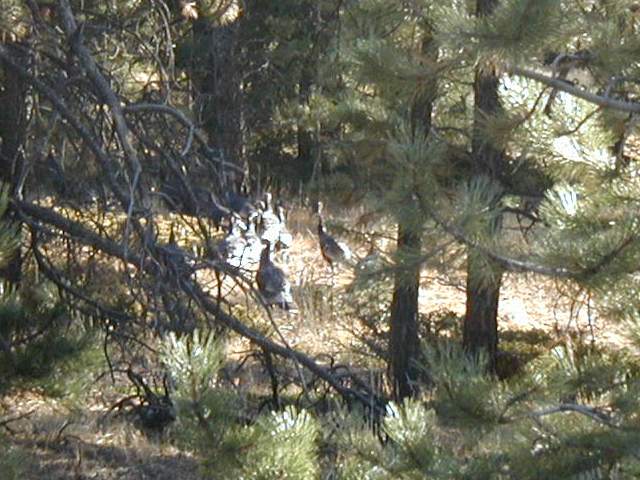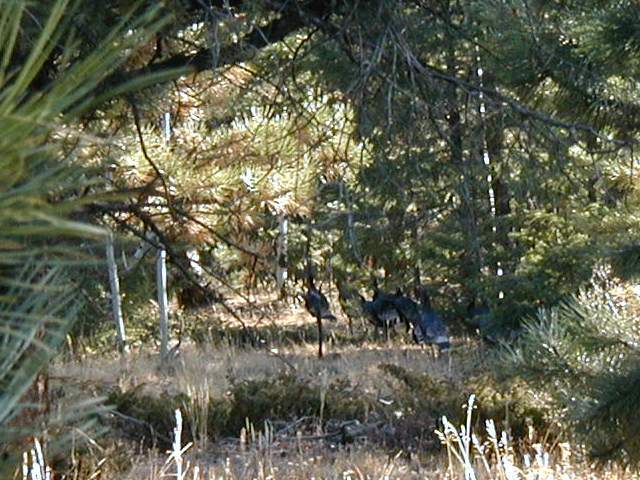 I really had no plans for trail riding today. I only had about 750 miles on the new bike at the beginning of the day. I knew I was going to be in the heart of some of America's finest trails, but I wasn't thinking about them when I left the house. By the time I hit Rampart Range Road, I was thinking, TRAILS!! I grew up riding up here so I pretty much knew where I was & where NOT to go. Last I time I was up there, it was two years ago on the KLR. There were dozens of dirt bikes all over the place & I felt like I was in the way, so I didn't spend that much time clogging up the trails. When I got up there today, there was NOBODY there! I mean NOBODY! So, since nobody was looking, I decided to take good ole' 627 from Devil's Head all the way to highway 67. That's about 7 miles. 627 is marked "Easiest" and that was fine for me. New bike, aging rider, heavy bike, heavy rider....you get the picture.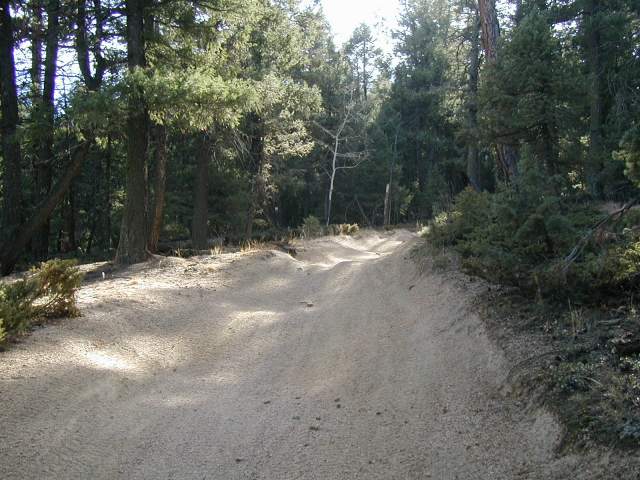 A quick stop for a breakfast bar & coffee about half way to highway 67. I don't ever remember having a fresh thermos of coffee trail riding before?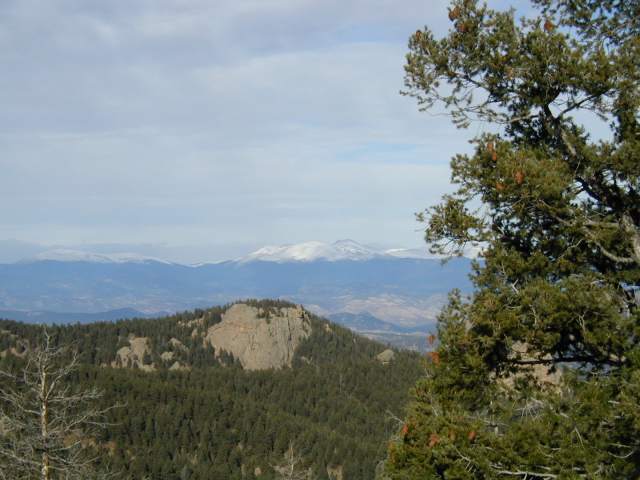 So I made it all the way across trail 627 without incident. A couple close calls. Like when your front wheel takes the high road, and the rear wheel take the low road. Then you try to help the bike hurry up and decide which way is it going to be? Up, or down? Hopefully you can get the answer right before the bike gives you the answer you don't want which results in everybody going down. I felt real comfortable on the GS on the trails. The suspension and clearance was nice. I didn't really notice the weight of the bike till you get in trouble. Then you notice it big time.
Down highway 67 you come to a favorite dirt bike hang out, Sprucewood. There is a bar there as well as ample parking for you to off-load your bikes and ride onto the trails. When I came through at 9:30, there was nobody there. From Sprucewood, I continued on 67. About half way to the South Platte, I saw this sign.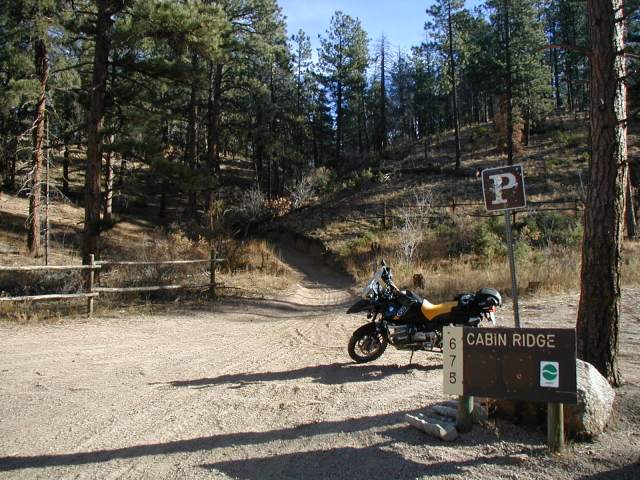 So off I went. I figured since it too was marked "Easiest", everything would be just fine. Well, that only lasted for a few minutes, as things got tighter and the loose stuff became abundant. I don't have a picture of the specific area, but basically, the trail turned into a deep crevice with deep loose dirt on the bottom. Heading up a slight incline I felt that I was loosing control. Before my next thought, it was BAM! The right crash bar smacks into the right bank of this crevice. The bike stalls and bounces out of control to the other side so that the left side of the GS doesn't feel left out. I could'nt help to think, "MAY DAY, MAY DAY, BLACKHAWK DOWN!" The bike was leaning over onto the left bank of the trail. I was able to push off the bank to get the bike upright. Initial damage report was just a fairly scratched up left hand guard and a scuffed up right crash bar. I did think about a picture, but I started to panic as I heard a couple real dirt bikes coming up the trail. I got it started & took off.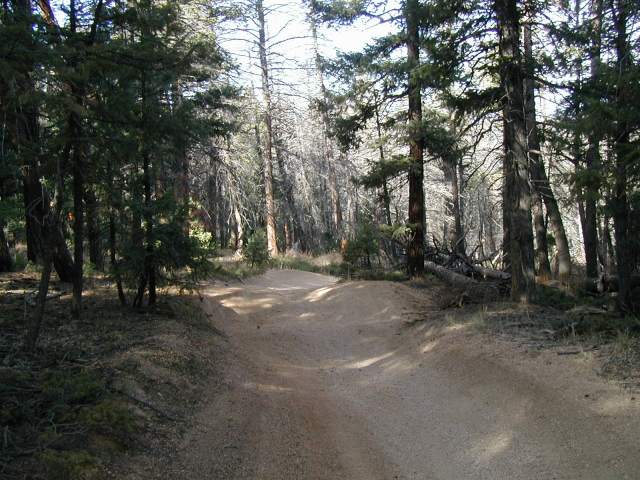 Just a 100 yards ahead, the trail was "closed." I stopped there for a breather & to do a damage report. The two dirt bikes came up to me & stopped. I really did not want to talk to them. I told them, "it looks like its closed", they said they would go around & make their own way. I said, "you guys go ahead." I figured they'd just take off. Nope, they shut them down and started asking questions. They were like, "dude, isn't that bike a little big for in here?" I told them, "naw, its no big deal. The bike and I can handle it." They said, "are you OK? Did you you down back there?" I said, "oh, just a little. How did you know?" One of the guys said, "Well between the 10 pounds of pea gravel on those cylinder heads, and the the place back there where it looks like a plane crash landed, I figured you must of went down." Well, so much for that little secret. I instantly changed the subject. They spent a few minutes looking at the bike as I really do think they thought it was cool with the GPS and all the gear. I don't think they were too sure about me and quite frankly, I wasn't either. I got the GS turned around & headed back down, SLOWLY.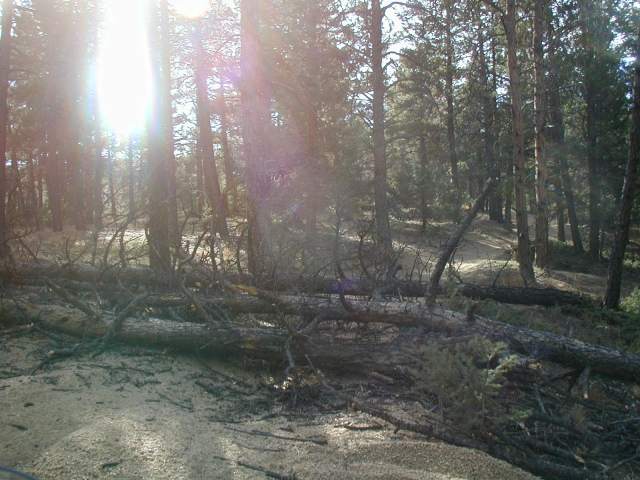 Well, If that wasn't enough, I had to pull a stupid as well. After the last trail episode, I ended up in Deckers. Then I wanted to go the the Cheeseman area to see the Hayman burn area. I went up the road 1/4 mile and it was closed. I had pulled over to the right to read the sign. I sat there for a minute or two reading and looking at the map. It was a fairly good incline. I slowly started out and turned to the left. I tried to put my left foot down to balance as I was barely moving as I was turning. I could not reach the ground! By the time my left foot hit the ground, the GS had a one way ticket to the earth and nobody was going to stop it. I just got out of the way and let my bike smash to the ground. Just a day ago, I read every bit of info I could find on picking up a bike like this. I also read that you need to gather yourself and take a few deep breaths. So, I took off my helmet and gloves. Got out the camera and documented the not-so-joyous occasion. I tried to pick it up in this position, but it wasn't going to happen. Gravity was not on my side as the top of the bike was facing downhill. So, I really didn't want to do it, but I knew I had to. That is, spin the thing around so the top of the bike was on the uphill. I actually waited several minutes to do this as I somehow enjoyed the sight of my new bike in this position. No, actually I was hoping someone might come by. They didn't. So, I played "Spin The GS" and lifted it right up. Looks like the rubber stopper from the end of the crash bar got wasted and the plastic cylinder head guard got all scratched up. That was it. It started right up & off I went.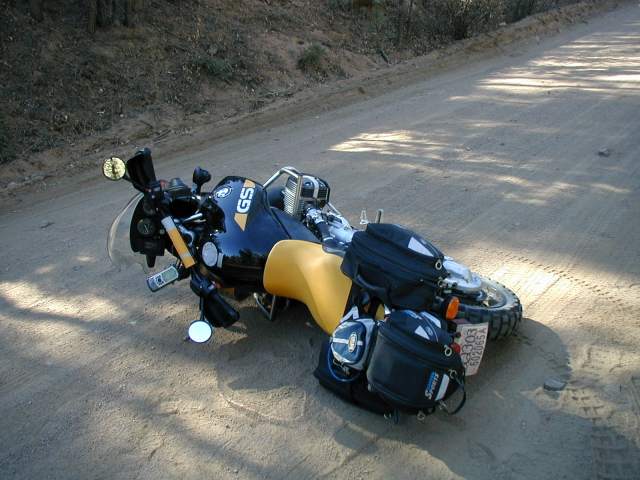 I followed the South Platte to highway 285 then back towards Denver. I needed protein so I made a quick stop at Coney Island in Aspen Park. That's the big hot dog shaped hot dog stand you might have seen on the "Hot Dog Show" on the Travel channel or PBS. I had a big ole jumbo dog with mustard & onions. Finished it off with cold water from the Camelback and then it was all business to get home down 285.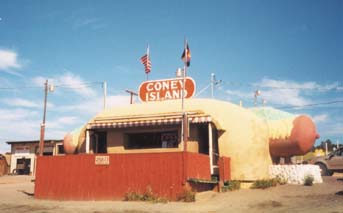 I love it when I can take these 6-7 hour rides that feel like I had been gone for a few days. I guess as I get older I really try to make the most out of everything I do as I tend to value time more than I did when I was younger. All-in-all it was a good ride. Sooner or later the bike was going down. Had no idea it was going to be today. Had no idea it was going to be twice. I just glad I didn't really break anything on my bike or on me.